So I was trying to find the circumference of a half circle inside of a half circle. By that I mean that I have an empty half circle inside of the larger half circle. So I will need to subtract the smaller half circle at the end.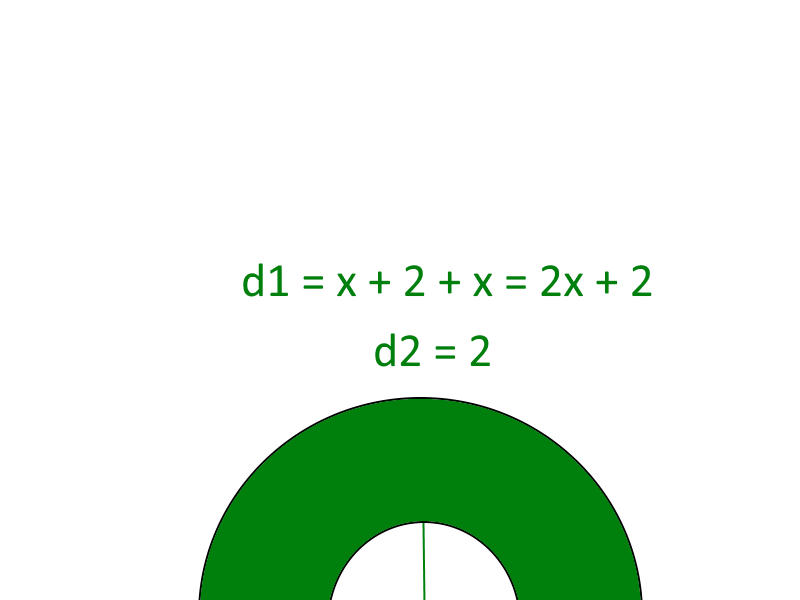 Circumference of half circle:
$\displaystyle (\pi * d) / 2$
So assuming what I know is that $\displaystyle d1 = x + 2 + x = 2x + 2$
and that one part in the middle is missing so I only need to add $\displaystyle 2x$. So the equation for O1 (circumference 1) will be:
$\displaystyle ((\pi * (2x + 2)) / 2) + 2x$
The diameter of the inner half circle is 2 so therefore:
$\displaystyle O2 = ((\pi * 2) / 2) + 2$
$\displaystyle O2 = \pi + 2$
Then I need to subtract O1 with O2 to get the correct circumference. Let's call this O.
$\displaystyle O = O1 - O2$
$\displaystyle O = \pi * (x + 1) + 2x - (\pi + 2)$
$\displaystyle O = \pi * (x + 1) + 2x - \pi - 2$
$\displaystyle O = \pi * x + \pi + 2x - \pi - 2$
$\displaystyle O = x(\pi + 2) - 2$
So this is what I get and I don't see where my mistake is. The book's answer is:
$\displaystyle (\pi +2)x + 2 * \pi$